Frequently Asked Questions
Where are the Fastlane Swimming training sessions?
---
Fastlane is based on Hong Kong island. We train at Wanchai Swimming Pool most lunch times. And we also train at the Sun Yat Sen Swimming Pool in some mornings (6:30 or 7:00 am starts). Wanchai is a 10 lane 50m pool on weekdays. It is configured as 20x25m lanes on Saturdays. Please note that Wanchai Swimming Pool is NOT open to public. It is only available for club hires and for training only.
---
Training and racing with the Fastlane Swim Team?
---
Like many Masters swimming programs, Fastlane caters to adult athletes with a wide range of swimming abilities. On our roster we have swimmers who are new to the sport, as well as several highly accomplished veteran swimmers. We are proud of all the pod
ium finishes that top Fastlane swimmers earn at domestic and international competitions throughout the calendar year; Fastlaners hold multiple Hong Kong age group and other records. But the key at Fastlane is to improve the individual swimmer's technique and times – no matter what their starting level may be!
We generally swim in 50 meter pools with multiple lanes, so there is plenty of lane space to accommodate different swimmers' levels. Workouts tend to last at least 60 minutes, so you should feel comfortable swimming for this duration. Sample interval times for 100-meter freestyle workouts may start at 2:30 to 2:00 and drop from there. Workouts usually include drill and stroke work, plus endurance/speed components, all depending on the coach's daily plan and proximity to upcoming meets.
Don't feel like you are ready for Fastlane yet? Check out our Development sessions on Saturday mornings or arrange 1-to-1 lessons.
---
Where can I find the training schedule?
---
Session schedule is updated on the 'Schedule' tab. Fastlane Swimming uses the Mindbody app to manage its booking, the most up to date infomation can be found on the app. <- A screen shot of the Mindbody app is shown here
---
How to use FINIS Tempo Trainer Pro?
---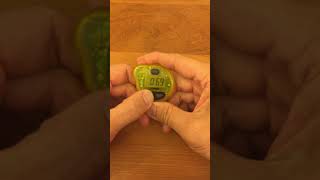 There are only 3 modes of operations. Most often, we use the FINIS TTP for 1) stroke rate and 2) time intervals (used to maintain a constant pace). Youtube video -> There is a very good video from The Race Club too: Click Here
---
What levels of swimming can be expected at Fastlane?
---
In general, swimmers are 1 of 3 distinct levels of swimming. Learn, Train, Race ... and Fastlane covers them all. Learn: Especially for beginners and swimmers wanting a fresh start, one to one sessions recommended, to learn water basics; breathing, floating, getting comfortable in water and onto moving in water. Train: Fastlane offers Development sessions, to further refine skills. Swimmers would be expected to be able to swim 400m freestyle (not breaststroke) non-stop and should swim 100m comfortably in 2min 45secs (see next question). There are regular weekly development sessions. Race: Training and racing. To fully benefit from our masters program, swimmers should be able to swim 1,500m non stop, be competent in one other stroke other than freestyle. Group Training sessions are those who want to improve are expected to attend no less than 3 sessions a week. HKASA athlete registration is requried. Please email Coach Dom at swimming.fastlane@gmail.com.
---
How do I know which pool the sessions are at? and how do I get in the pool?
---
The POOL is the first word of the session name. For Example, Wanchai Group Training will be at Wanchai pool, SYS Group Training will be at Sun Yat Sen pool and so on. The session names are listed on the Mindbody app, so you would know when you make the booking. We hire lanes for our training sessions, so there is NO NEED to pay at the entrance, NO NEED to use your octopus cards. At Wanchai Swimming Pool, meet at the gate entrance and a card labelled Fastlane Swimming is needed to enter. Other pools, you would need to tell the attendants you are swimming with Fastlane. They should let you in then
---
What equipment should I bring to training? What should I have in my bag?
---
Equipment: - Fins (DMC or PDF fins recommended) - Paddles (FINIS agility paddles are popular, Strokmaker paddles) - Pull Buoy * please bring unless otherwise told not to. Other essentials: - Swimsuit - Goggles - Water Bottle - for your hydration needs - Swimcap (Once you start training or join Fastlane, you will get a Fastlane cap) - Soap or Shampoo - Towel - Slippers (flipflops) for getting to pool deck from the changing room and for genreal hygene in and around the changing rooms - $5 coin if you want to use the lockers, you will get it back when finish Sometimes: - FINIS Tempo Trainer Pro - Foot Band (used for pulling) A separate mesh bag is good, to carry all the equipment which can still be wet after training.
---
Do I need to register with the HKASA? Why?
---
For swimmers who swim regularly with Fastlane Swimming, YES as a Masters Swimmer (MS). And of course, you become part of the Fastlane family! HKASA Hong Kong Amateur Swimming Association (HKASA) runs a club based register of swimmers. Swimmers need to register with a club to enter races and also for swimmers to use the club's lanes. Registration is for a 12 month period, starting from 1 April to 30 March the year after. There are usually 4 long course (LC) and 2 short course (SC) masters races run by the HKASA.
---
How do I book sessions? Bookeo is the answer.
---
Fastlane uses the Bookeo webpage to manage its bookings. To sign up with Fastlane, you can visit the following link: https://bookeo.com/fastlaneswimming NEXT: Booking is on a prepaid basis, prices are set out on the 'Prices & Booking' page. To transfer via FPS: swimming.fastlane@gmail.com PayMe: 91870230 Payments can be settled by credit card or by bank transfers.
---
What is Masters Swimming?
---
Masters swimming is a special class of competitive swimming for swimmers 25 years and older. Premasters is normally included as well, from 18 years old (Hong Kong, Canada, United States and Australia) or 20 years old (Europe). Link to Wikipedia: Master Swimming
---
Are there any kids, teenagers or young adults at Fastlane?
---
Yes, Fastlane runs 'learn to swim LTS' programs at some schools and have run middle school teams. One to one lessons can be arranged on a case by case basis. Please contact Coach Dom via email for bookings.
---
I am a triathlete and don't care much for the other strokes. Can I do everything in Freestyle/Front Crawl?
---
Our sets include a good mix of stroke work, but the majority of the distance work will inevitably be freestyle/front/crawl. We will not prohibit you from swimming everything in freestyle, but we do recommend cross training other strokes for a more rounded swimming experience.
---
Can I get individual learn to swim or stroke correction lessons?
---
Yes, these sessions can be booked/arranged directly, depending on pool/lane availability. Please email swimming.fastlane@gmail.com.
---
Does Fastlane do any open water swimming?
---
Numerous celebrated open water swimmers regularly join our group training sessions, but open water group swims are generally organised and agreed upon by the individuals in their personal capacity. Having said that, individual swimmers have won many OWS in HK including the annual Cross Harbour race. As teams, Fastlane has won many categories of the Clean Half and Cold Half races held in Hong Kong.
---
What is the cancellation policy? 8 Hours!
---
Once a session is booked, it can be cancelled online upto 8 hours before the session starts. As there is limited capacity and in particular at some popular sessions, it is good etiquette to cancel in time so waitlisting swimmers can join the swim. Late cancellation will be charged a full session.
---
---